Tree Replacement and Canopy Expansion

McLean Gardens has partnered with Casey Trees to expand the tree canopy of our 23-acre site. In 2009 the Sustainability Committee and Casey Trees conducted an inventory of the property's trees, shrubs, and individual gardens; the inventory will be updated regularly.

Casey Trees donates good-sized new trees that replace those that have died or add trees to areas that have too few. Volunteers from McLean Gardens, American University, and Urban Foresters do the hard work of planting 10-20 new trees each year. Volunteers from McLean Gardens make sure the new trees are adequately watered for at least two years. Over a decade or so, McLean Gardens will be able to renew and expand its own urban forest.

Casey Trees, a non-profit organization, has a goal of restoring, enhancing, and protecting the tree canopy of the Nation's Capital. It has become a local, national, and international leader in urban forestry. Learn more at http://www.caseytrees.org.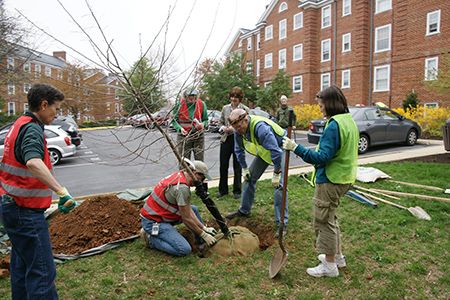 Documents in Adobe Acrobat PDF format require the free Adobe Reader to view. If you don't have Adobe Reader already, you can Download it here